Product Introduction
NQCM1Z series plastic case circuit breaker (hereinafter referred to as circuit breaker) is a new type of circuit breaker designed and developed by our company using international advanced technology. The circuit breaker has the characteristics of small size, high breaking capacity, short flashover, and anti-vibration. It is an ideal product for land and ships. It is suitable for power distribution networks with DC rated working voltage up to 1200V and rated current up to 1250A. It is used to distribute power and protect lines and power supply equipment from overload, short circuit and undervoltage faults. It can also be used for infrequent switching of lines and infrequent starting of motors, as well as overload, short circuit and undervoltage protection.
The circuit breaker can be installed vertically (that is, vertical installation) or horizontally (that is, horizontal installation).
The circuit breaker meets the standard: GB14048.2 "Low-voltage switchgear and control equipment Part 2: Circuit breaker".
Model Meaning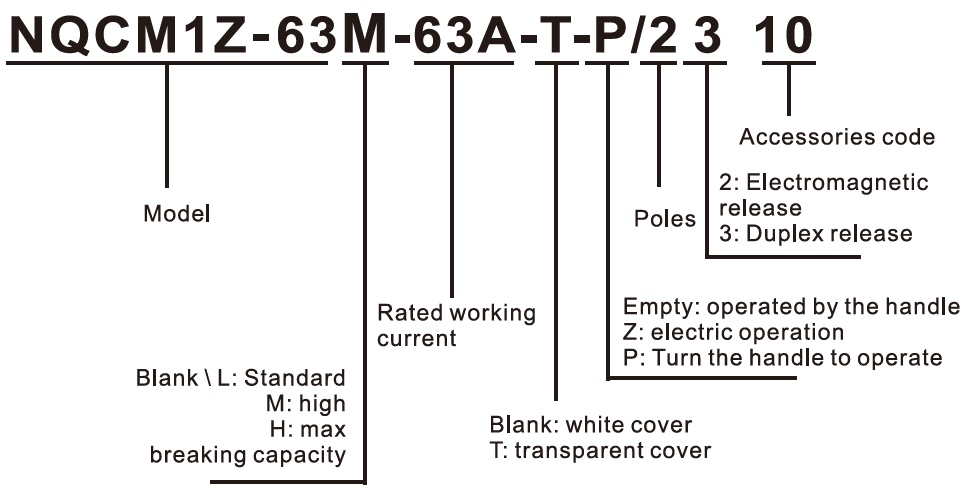 Protections and Functions
Short circuit protection
Overload protection 
(overcurrent protection)
Isolation function
Auxiliary control function
Technical Parameters